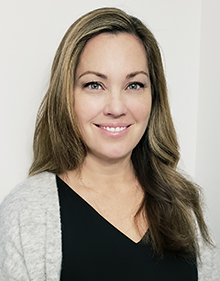 Over the years aesthetic medicine has become a life long passion of mine. The combination of science of anatomy, knowledge of products and the artistry of injecting is a very unique field. It is an evolving science with a steady stream of new products and techniques.
I have been an RN for over 20 years completing my BSN from UBC and an Aesthetic Nurse Specialist for 15. This industry has changed dramatically over the decades and has evolved into a science based medical field to ensure the best possible, safe outcomes for patients.  I focus on the different needs of each patient creating a long-term plan to help individuals be their best natural self.  People often say they want to match how they feel on the inside to how they want to look on the outside.  Subtle changes over time can be achieved while maintaining your unique, more refreshed self.
As a member of the Canadian Society of Aesthetic Specialty Nurses and the International Society of Plastic and Aesthetic Nurses I keep abreast of the latest, most effective treatments and keep your safety with injectables as a number one priority.